Laura Dianne Vandervoort is a guest star, who portrays Mila Dubov on V Wars.
Biography
[
]
Laura Vandervoort has become well known worldwide from her roles as Indigo on Supergirl, Kara (Supergirl) on Smallville, Lisa on the series V, the lead of the series Bitten Elena along with many other films and television series.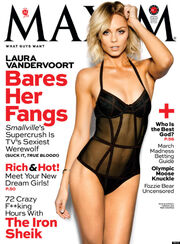 She has a second degree black belt in karate and often does her own stunts. Laura was listed among Maxim Magazine's 100 Hottest Women several years in a row earning her the cover. Laura Vandervoort started her career at the age of 13, doing commercials and background work in Canadian television series and film.
Appearances
[
]
Media
[
]
Pictures
[
]
Videos
[
]
| Year | Title | Type | Role |
| --- | --- | --- | --- |
| 2019 | V Wars | TV Series | Mila Dubov |
| 2019 | Rabid | | Rose |
| 2018 | Ice | TV Series | Tessa |
| 2018 | Unspeakable | Short | Kelsi Deguire |
| 2017 | Con Man | TV Series | Finley Farrow |
| 2017 | Frankie Drake Mysteries | TV Series | Sophia Devoe |
| 2017 | Jigsaw | | Anna |
| 2017 | Private Eyes | TV Series | Special Guest Star-Dana |
| 2016 | Supergirl | TV Series | Indigo |
| 2015 | Ballers | TV Series | Sarah |
| 2014-2016 | Bitten | TV Series | Elena Michaels |
| 2014 | Coffee Shop | | Donavan |
| 2013-2014 | Captain Canuck | TV Series | Bluefox |
| 2013 | Bank$tas | | Jessica |
| 2013 | CSI: NY | TV Series | Macy Sullivan |
| 2012 | Broken Trust | TV Movie | Sophie Anderson |
| 2012 | Finding Mrs. Claus | TV Movie | Noelle |
| 2012 | Haven | TV Series | Arla Cogan |
| 2012 | Ted | | Tanya |
| 2012 | This Means War | | Britta |
| 2012 | White Collar | TV Series | Sophie Covington |
| 2011 | Desperately Seeking Santa | TV Movie | Jennifer Walker |
| 2011 | Family Guy | TV Series | Bridgit / Jenny (voice) |
| 2011 | Spider-Man: Edge of Time | Video Game | Mary Jane Watson (voice) |
| 2011 | The Entitled | | Hailey Jones |
| 2010 | Riverworld | TV Movie | Jessie Machalan |
| 2009-2011 | V | TV Series | Lisa |
| 2009 | Damage | | Frankie |
| 2009 | Into the Blue 2: The Reef | Video | Dani |
| 2009 | Out of Control | TV Movie | Marcie Cutler |
| 2009 | The Jazzman | | Sara |
| 2007-2011 | Smallville | TV Series | Kara / Supergirl / Brainiac |
| 2007 | CSI: Crime Scene Investigation | TV Series | Miss Tangiers |
| 2007 | The Dresden Files | TV Series | Natalie |
| 2007 | The Lookout | | Kelly |
| 2006 | Troubled Waters | | Carolyn |
| 2005 | Falcon Beach | TV Movie | Ashley |
| 2005 | Sue Thomas: F.B.Eye | TV Series | Gabbie |
| 2005 | True Crimes: The First 72 Hours | TV Series documentary | Leanne |
| 2004-2008 | Instant Star | TV Series | Sadie Harrison |
| 2004 | Doc | TV Series | Annis Bennington |
| 2004 | Prom Queen: The Marc Hall Story | TV Movie | Young Girl (uncredited) |
| 2002 | The Gavin Crawford Show | TV Series | The Girl |
| 2001 | Mutant X | TV Series | Tina |
| 2000 | Alley Cats Strike | TV Movie | Lauren |
| 2000 | Are You Afraid of the Dark? | TV Series | Ashley Fox |
| 2000 | Mom's Got a Date with a Vampire | TV Movie | Chelsea Hansen |
| 2000 | Twice in a Lifetime | TV Series | Misty Reynolds |
| 1999 | Penny's Odyssey | TV Movie | Tanya |
| 1997-1998 | Goosebumps | TV Series | Sheena Deep / Nadine Platt |
Awards
[
]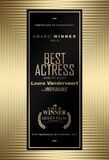 | Year | Award | Category | Nominated | Result |
| --- | --- | --- | --- | --- |
| 2019 | Queen Palm International Film Festival | Best Actress [2] | Unspeakable | Winner |
References
[
]
External links
[
]